New Year's Eve Dinner at Ravens Restaurant
Sunday, Dec 31, 2017
In Mendocino, CA
Menu
Starters:
Grilled Apple & Arugula Flatbread* – With cashew cream, balsamic reduction 14 (gluten-free option available) 14
Ravens Sushi Roll – Hand roll sushi with brown rice, seaweed, marinated tofu, cucumber, green onion, celery 13
Soup:
Black-eyed pea soup 12
Salads (choose one):
Garden Chopped Salad – With grilled trumpet mushrooms, mixed vegetables, cashew ranch dressing 14
Black-eyed Pea Tostada Salad – With baked corn tortilla, borracho black-eyed peas, brown rice, lettuce, salsa 14
Entrées (choose one):
New Years Tamale – Green chili/almond cheese/arugula tamale, borracho black eyed peas, achiote rice 24
Seared Mushroom Scallop – With brown rice, sugar snap peas, white wine & garlic beurre blanc 26
Wild Mushroom Roulade* – Rivino Sangiovese reduction, green bean casserole, wild and brown rice pilaf with kale and shallot 26
Black eyed pea tostadas – Black-eyed pea borracho on baked corn tortillas with pico de gallo, lettuce, sour 'cream,' with rice & beans 22
Pumpkin Ravioli – With chestnut pesto, braised greens 27
Desserts (choose one):
Mint Chocolate Ganache Tart – Almond hazelnut crust 13
Pecan Torte – Topped with house-made maple ice cream 13
Creme Brulee – Vanilla bean and Frangelico coconut custard brulee 14
Ravens Banana Split– Served with strawberry, chocolate, vanilla rum ice creams, whipped coconut cream, toasted coconut sprinkles, chocolate-almond bark 15
Attend this event by staying at: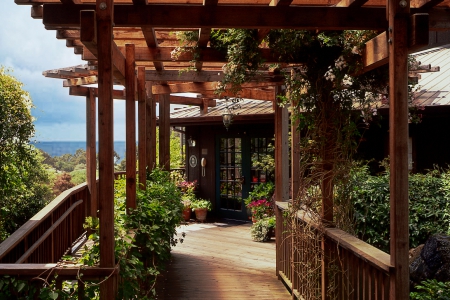 Nestled on a hillside, the exquisite Stanford Inn sits atop a meadow overlooking Mendocino Bay. Embodying the best of the rugged Mendocino Coast, the Inn is a haven. The rambling lobby, guest rooms, and suites are paneled in pine and redwood. Every detail...