The second largest of the Hawaiian island, Maui is the 17th largest island in the Uniqted States. Maui's diverse landscapes include volcanoes, sprawling forests, waterfalls and over 120 miles of gorgeous coastline.
Maui is also the leading whale-watching centre in the Hawaiian Islands due to Humpback whales wintering in the channel between the islands of Maui Country. The biggest tourist draws include Hana Highway, Haleakala National Park, Lao Valley and Lahaina (historic town with major historic and cultural significance).
Unique Places to Stay in Maui
The finest bed & breakfasts, boutique hotels and country inns located in Maui, Hawaii.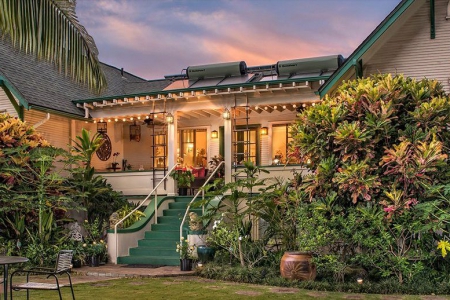 Where Central Maui's celebrated Nā Wai 'Ehā (The Four Waters) converge, you will find one of the best places to stay in Maui. Old Wailuku Inn is known for its homey accommodations and provides guests with a true local Hawaii experience in...