Oregon Summer Blackberry Bread Pudding
From Black Walnut Inn & Vineyard in Dundee, Oregon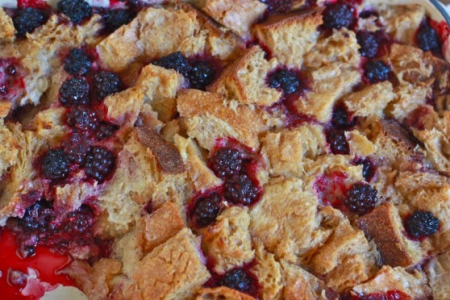 Oregon blackberries ripen during the late summer and early fall. Enjoy them over ice cream, granola or in this heavenly bread pudding recipe from the Black Walnut Inn & Vineyard. This recipe requires the bread to soak overnight so you will find the instructions separated into 2 days.
Ingredients
8 eggs
2 cups firmly packed light brown sugar
1/2 teaspoon ground cinnamon
1/4 teaspoon freshly grated nutmeg
2 teaspoons vanilla
4 1/2 cups half and half
One loaf of brioche (large from the bakery), cut into 1/2 inch cubes
4 cups fresh black berries
Directions
Day 1 - Whisk all ingredients (excepts bread and berries) together in a large bowl. Add the bread and gently mix so that the bread is saturated. Place bowl in refrigerator overnight.
Day 2 - Position your oven racks so that one is in the center and preheat the oven to 350 degrees. Butter the bottom and sides of a large baking dish. Add blackberries to your bread and egg mixture. Fold them in gently so as not to crush the berries. Spoon the mixture into the prepared dish. Place the baking sheet on the center rack in the oven, and bake the bread pudding for 50-55 minutes, until the top is golden brown and the edges are bubbly. Remove the baking pan from the oven, and place on a wire rack to cool for a few minutes. Serve with a dollop of flavored whipping cream.
Filed in: Desserts