Pets are Special!
All significant family members can share the experience of the Stanford Inn. The Stanford Inn's owners have always traveled with our dogs, Murphy and Ellie, and welcome your friends here. Th eInn is very careful to provide amenities that ensure your pet will return from vacation healthy and refreshed as they hope you feel.
$45 charge per stay, for the first pet - additional pets are $22.50
welcoming handmade treat specially created to not disturb our dogs digestion
stainless steel food and water dishes
"dog sheets" to protect the furniture so that your friend can join you
Intelligent Products pick-up bags
well-behaved dogs are welcome in the lobby
Call 1-707-937-5615 for more information.
Enjoy this special at: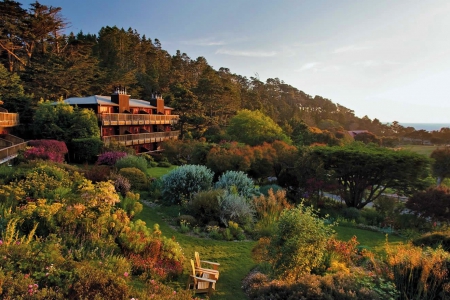 Nestled on a hillside, the exquisite Stanford Inn sits atop a meadow overlooking Mendocino Bay. Embodying the best of the rugged Mendocino Coast, the Inn is a haven. The rambling lobby, guest rooms, and suites are paneled in pine and redwood. Every detail...