Hike Around Gold Beach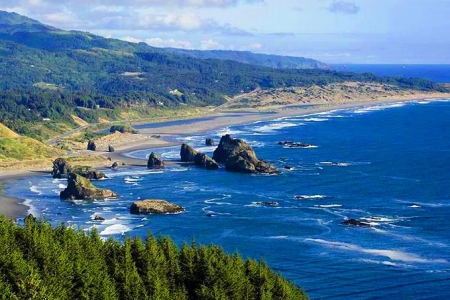 Hiking in Gold Beach doesn't necessarily have to mean heavy boots and intense mountaineering to see some amazing sights. Many of the area's best treks are short enough that you could still plan another activity later in the day and complimentary maps are provided for several popular trails in the area, making planning your day easy. From mellow to mountainous, there is wide variety of options available suitable for all levels of hiker.
Nestled in the tranquil woodlands of Gold Beach and located on the bank of the majestic Rogue River, the Tu Tu' Tun Lodge is a mecca for nature lovers. Here is a list the Lodge has put together of a variety of excellent hikes in the area. The hikes are listed in order of their level of difficulty, beginning with the easiest:
Riverfront Walk - This walk is right out your door. A flat, easy hike, good for beginners and suitable for all ages.
North Jetty - Wide open beach. This is an easy hike.
Shrader Old Growth Trail - Cathedral of old-growth trees that have evolved over hundreds of years. This is an easy hike.
Cape Sebastian - Panoramic 700 foot headland. Dinosaur bones have been excavated near the bottom of the cape. This is an easy to moderate hike.
Myrtle Tree Trail - Home to Oregon's oldest known Myrtle tree. The tree is one of the world's largest known Myrtle trees. The ¼ mile trail is surrounded by an old growth forest. This is a moderate hike.
Lone Ranch - Spectacular for "tide pooling". There is a bridge that has gone out, so it may be tricky crossing in certain areas. This is a moderate hike.
Humbug Mt. Trail - The highest mountain on the Oregon Coast. Gorgeous rainforest trail, 1730 feet to the summit. This hike is intense.
For the best accommodation in Gold Beach: