Take the Road to Hana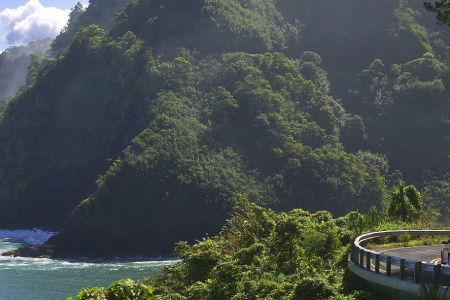 Winding through Maui's lush, tropical rain forest, the world famous Road to Hana is the most popular day trip on Maui. You'll see everything from black sand beaches and waterfalls to unique roadside stands. It's one of the best ways to explore the island!
Here are some favourite Road to Hana stops:

Paia Town - Paia is the last town you pass before starting your trip clockwise to Hana.

Twin Falls - The hike to the waterfall is easy and beautiful, and there's a farm stand selling coconut water, banana bread, and smoothies at the entrance. It's definitely worth a quick peek.

Nahiku Marketplace - his little roadside market offers plenty of beautiful gifts like handmade jewelry, clothing, and artwork. It's also a great place to enjoy a meal; you'll find several food trucks selling everything from kalua pork tacos to Thai food.

Wai'anapanapa State Park - Between the sea caves, hiking trails, and stunning black sand beach, you could easily spend an entire day here.

Hana Town - Hana is considered "Real Hawaii" by many and has remained relatively unchanged compared to the rest of Hawaii's development. This small town is quiet, beautiful, and full of history.

Wailua Falls- Wailua Falls is Maui's most photographed waterfall and is an absolute must-see.

Hamoa Beach - Consistently named one of the most beautiful beaches in the world, Hamoa Beach is surrounded by shady trees and sea cliffs.

Seven Sacred Pools - A short hike through the bamboo forest leads you to numerous freshwater pools that are fed by flowing waterfalls. It's a wonderful place to swim and cool off.

Get a 30-minute head start on the Hana Highway when you stay at: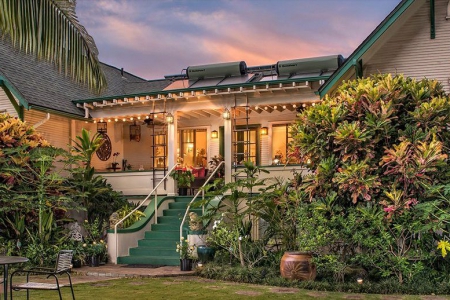 Where Central Maui's celebrated Nā Wai 'Ehā (The Four Waters) converge, you will find one of the best places to stay in Maui. Old Wailuku Inn is known for its homey accommodations and provides guests with a true local Hawaii experience in...