Berry Cream Cheese Muffins
From Abigail's Hotel in Victoria, British Columbia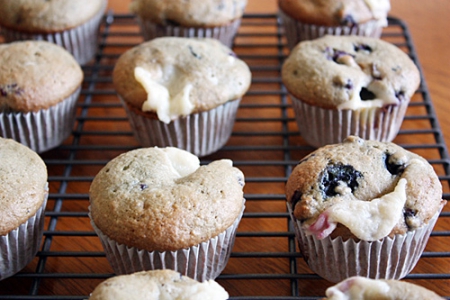 A fresh berry muffin with cream cheese in the mix is the perfect way to start any morning! Surprise your loved ones with these sensational berry and cream cheese muffins for an excellent morning or afternoon tea treat.
Ingredients
1 ¼ cups all purpose flour
¾ cup whole wheat flour
1 ½ teaspoons baking powder
1 teaspoon baking soda
½ teaspoon salt
1 cup low fat vanilla flavored yogurt
½ cup lightly packed brown sugar
¼ cup vegetable oil
1 egg
Grated zest of one large lemon
2 tablespoons freshly squeezed lemon juice
2/3 cup fresh blueberries
2/3 cup fresh raspberries
12 teaspoons light strawberry cream cheese (Philadelphia brand)
Directions
Dry Ingredients: Preheat oven to 375F Spray 2 muffin top pans lightly with cooking spray and set aside. Combine dry ingredients in a large bowl.
Wet Ingredients: Whisk together wet ingredients in a medium bowl. Add wet ingredients to dry ingredients and mix until dry ingredients are moistened. Fold in blueberries and raspberries. Divide batter evenly among 12 muffin top cups. Hide 1 teaspoon cream cheese in the center of each muffin. Bake for 12 minutes or until muffin tops are puffed up and a toothpick inserted in center comes out clean. Remove from pans and cool on wire rack. Serve warm.
Filed in: Breakfasts, Muffins