Chocolate Chip Banana Bread
From Abigail's Hotel in Victoria, British Columbia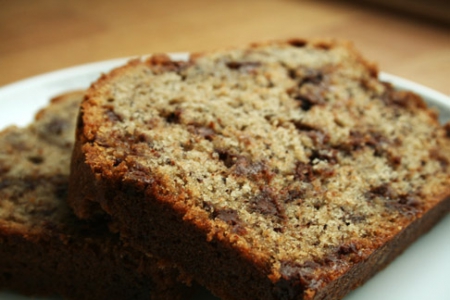 Abigail's Hotel is known for romance and also for its delicious gourmet goodies. Chef Matt's easy to make and very tasty decadent chocolate banana bread recipe is wonderfully moist and an instant classic!
Ingredients
2C All Purpose Flour
A pinch of salt
1.5 tsp Baking Soda
1/2 lb Unsalted Butter
1C Sugar
5 Egg Yolks
4 Very ripe bananas
2 tsp Vanilla Extract
2/3 Good quality chocolate chips or slab chocolate cut into chip size pieces
Directions
Put salt, baking soda and flour in a large mixing bowl. Cream butter and sugar with a mixer or stand mixer, add egg yolks and continue mixing until homogenized and fluffy. Mash bananas with vanilla and add to butter, sugar and egg yolk mixture. Mix together well. Add wet ingredients and chocolate to dry and fold with a spatula until just mixed. Pout the mixture into a well greased 9x5x3 inch loaf pan. Bake at 325 degrees for 1 hour. Cool in the pan for 15 minutes then turn out and let cool on a wire rack. Slice and enjoy!
Filed in: Breads, Breakfasts