Chocolate Heaven Torte
From Abigail's Hotel in Victoria, British Columbia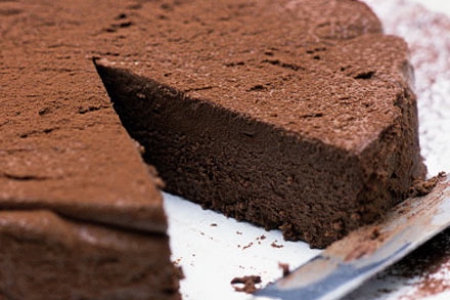 This flourless Chocolate Heaven Torte recipe from Abigail's Hotel is versatile, easy to make and best of all - tastes deliciously stunning. Chef Victoria recommends serving this delightfully rich torte in small slices at room temperature with a good quality ice cream for absolute bliss!
Ingredients
1-1/2 lbs your choice dark chocolate
¾ lb unsalted butter
9 large eggs
1 Tablespoon pure vanilla
2 Tablespoons of your choice of flavor/liqueur
Directions
Beat room temperature eggs in a warmed dry mixing bowl (warm bowl with hot water) Warm butter and chocolate in microwave until slightly melted; stir until completely melted. Whip eggs on highest speed until tripled in volume (10min); lower to first speed and add flavors, then transfer to a medium bowl. Fold in the chocolate mixture in two parts, using a large spatula until no streaks remain. Pour into prepared pans - parchment lined insides and bottom, foil-lined outside bottom - and smooth top evenly, trying not to smear batter up the sides. Set up baking tray in oven, pour in boiling water, and set cake in a 1" water bath. Bake 8 minutes at 425, turn around tray, cover with foil top (tuck tightly for convection oven) and bake 14 more minutes. Cake will be soft, do not soufflé it! Remove foil from bottom and cool on wire rack for 2 hours. Then remove from pan and parchments and refrigerate for at least 4 hours.
Filed in: Desserts