Sun-dried Tomato Pesto
From Abigail's Hotel in Victoria, British Columbia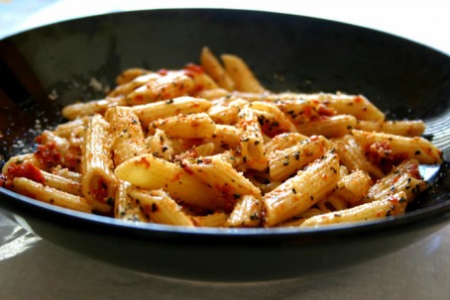 Try this classic & simple sun-dried tomato pesto recipe from Abigail's Hotel. This delightful pesto would make a great Christmas gift & is fabulous for tossing together with pasta, potatoes or grilled chicken. Once you have this pesto perfected, try varying the recipe to suit your taste & get playful with it by adding additional ingredients such as spinach, chipotle or sweet red pepper to give it an extra punch of flavor.
Ingredients
1/2 cup coarsely chopped sun-dried tomatoes (drain well if packed in oil)
2 tbs fresh basil or 2 tsp dried basil
1 clove of garlic
1/2 tsp salt
1/4 tsp fresh ground pepper
2 tbsp olive oil
2 tbsp hot water
3 tbsp of grated parmesan cheese, or more as needed
Directions
Using a food processor, drop in the clove of garlic while the motor is running. Process until minced, then add the tomatoes, basil, salt, pepper, olive oil and process until a thick paste forms. If the paste is too thick, thin with hot water until desired consistency. Scrape mixture into a bowl and fold in the parmesan cheese with a spatula. Keep refrigerated.
Filed in: Salads & Dressings