Grandma Utz's Potatoes
From Black Walnut Inn & Vineyard in Dundee, Oregon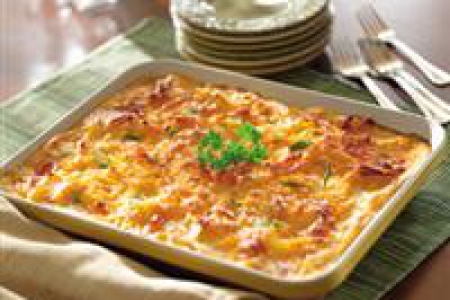 A treasured family recipe, that's just too good not to share! This potato dish from Grandma Utz is easy, flexible, straightforward and can pretty well serve as a lovely accompaniment to just about anything.
Ingredients
6 large russet potatoes washed and baked
6 cups sour cream
One bunch of green onions, washed and sliced
4 cups grated sharp or extra sharp cheddar cheese (Tillamook extra sharp is preferrable)
Directions
After potatoes are baked, peel and grate using a coarse hand grater. Do not use the Cuisenaire as it makes them a very gluey consistency. Combine all other ingredients with the grated potatoes, mixing well. Add salt and pepper to taste. Bake uncovered for about an hour at 350 degrees. This makes a large casserole which will easily feed 24 guests.
Filed in: Side, Vegetables