Pumpkin Scones
From Black Walnut Inn & Vineyard in Dundee, Oregon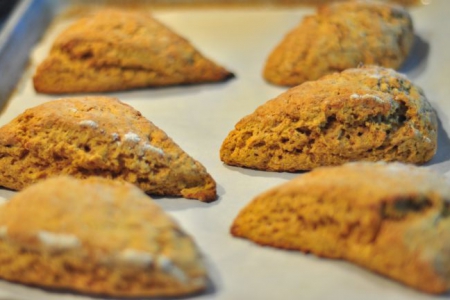 The Black Walnut Inn's scone recipe is a favorite among guests and they love to tweak it each season to take advantage of fresh local ingredients.
Ingredients:
1 pound 12 ounces unbleached all-purpose flour
3 ounces sugar
3 tablespoons baking powder
1 teaspoon salt
1/4 teaspoon nutmeg
1/2 teaspoon cinnamon
1/4 teaspoon ginger
3 cups cold heavy whipping cream
1/3 cup honey
1/3 cup pumpkin puree (do not use "pie filling")

Directions:

Position your oven racks so that one is in the center and preheat the oven to 375 degrees. Line a baking sheet with parchment paper.
Weigh and measure out the dry ingredients into a bowl and stir a few times to mix.
In another bowl combine the wet ingredients (cream, honey and pumpkin puree).
Pour the wet ingredients into the bowl with the dry ingredients and stir with a wooden spoon. Mix until the ingredients come together, avoid over-mixing as this can cause your scones to be tough.
Pour dough onto a floured surface and kneed dough 8 times. Let the dough rest for about 5 minutes.
Divide dough into three equal parts and form into disks. Cut dough to form 18-24 scones.
Place scones onto baking sheet, leaving 2 inches between the scones. Either brush tops with whipping cream or sprinkle with crystallized sugar.
Place the baking sheet on the center rack in the oven, and bake the scones for 20-25 minutes, until the tops are golden brown. (check often after 20 minutes to ensure they don't burn)
Remove the baking sheet from the oven, and place on a wire rack to cool for a few minutes. Use a spatula to transfer the scones to your serving dish. Serve fresh out of the oven or at room temperature.
Filed in: Scones