Pumpkin Apple Streusel Muffins
From Abigail's Hotel in Victoria, British Columbia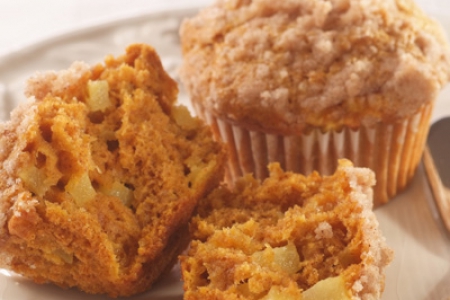 What better way to celebrate the coming of fall than with delicious muffins that combine the wonderful texture of apples with the warm taste of pumpkin. A simple streusel topping gives them a little something extra. These muffins are a hit with guests at Abigail's!
Ingredients
Dry ingredients:
3 cups flour (I like to use 1/2 white & 1/2 whole wheat flours)
1 cup brown sugar
1 Tablespoon cinnamon
1 teaspoon ginger
1 teaspoon allspice
2 teaspoons baking soda
1 teaspoon salt
Wet ingredients:
Beat 2 eggs
Add 1-1/2 cup pumpkin puree
1/2 cup canola oil
Streusel Topping:
2 Tablespoons butter
1/4 cup sugar
1 teaspoon cinnamon
Directions
Combine dry ingredients with whisk. Combine wet ingredients & then mix with dry ingredients, just until moistened. Fold in apples. Scoop batter into 18 muffin cups. Top with streusel topping (cut together butter, sugar, and cinnamon until crumbly). Bake at 375 degrees for 20 – 25 minutes.
Filed in: Breakfasts, Muffins