Thanksgiving Pecan Tart
From Abigail's Hotel in Victoria, British Columbia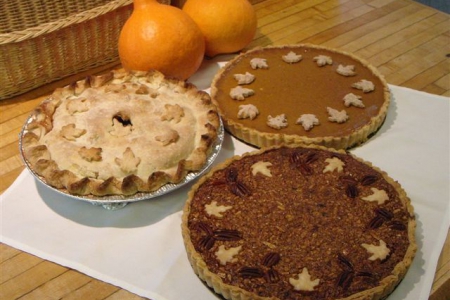 We all have many things to be thankful for, now & throughout the year. Celebrating with a special dinner alongside family & friends is a wonderful custom. For a delicious variation for dessert, try this nutty tart recipe from Abigail's Hotel instead of the usual pumpkin pie or as an additional option.
Ingredients
flaky pastry crust
5 eggs, preferably local free range eggs
1 cup of brown sugar
1/4 lb unsalted butter
1-1/4 cups medium or dark corn syrup
2 teaspoons of vanilla
2 tablespoons dark rum (optional)
1-1/2 cups chopped pecans
cinnamon/sugar spiced whipped cream (optional)
Directions
Fit 1 Deep 10-inch removable rim tart pan with a flaky pastry crust, trim off excess edge with a knife. Chill for 1 hour and Preheat oven to 375 degrees. Beat eggs and sugar in large mixer bowl well. Then add remaining ingredients, folding in the pecans last. Top with 8-12 pecan halves near the edge. Bake at 375 degrees for 30 minutes Turn around tart in oven to bake evenly, then turn down oven temperature to 350 degrees and bake for another 15 minutes. Cool on a wire rack. When cool, remove from the pan to a cake plate. Serve at room temperature and for a festive touch, serve with cinnamon/sugar spiced whipped cream.