Cheddar and Onion Scones
From Abigail's Hotel in Victoria, British Columbia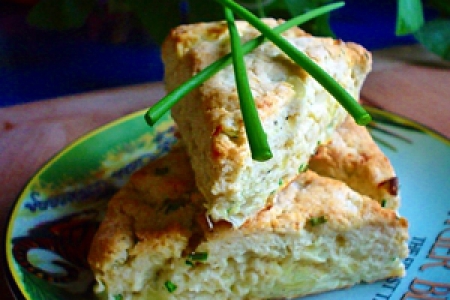 Impress brunch guests with this simple yet savory scone recipe from Abigail's Hotel. Sources from Abigail's tell us that that this is probably one of the most requested and sought after recipes.
Ingredients
1/2 lb of all purpose flour
1 tbs baking powder
1/2 tsp salt
2 tbs white sugar
3 green onions, chopped
1/2 cup of good quality cheddar, cut into 1/2 cm cubes
1 cup of heavy cream
Directions
Knead all the ingredients together by hand until well mixed. Form into a disk, 7-8" in diameter and 1 1/2" thick. Cut into 8 pie shaped pieces. Cook in a convection oven on 375 degrees for 15 minutes, turning once after 10 minutes.
Filed in: Breakfasts, Scones