Crab Cake Benny
From Brentwood Bay Resort & Spa in Victoria, British Columbia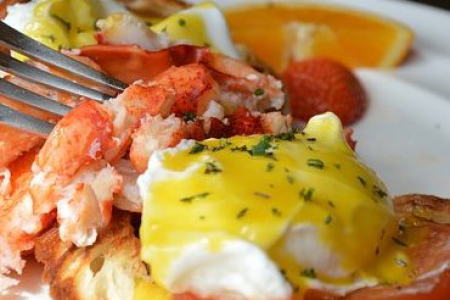 A seafood lovers dream, this delicious crab cake eggs benny recipe from Brentwood Bay Resort is perfect for brunch!
Ingredients:
1 lb crabmeat, drained & squeezed dry
¼ red pepper, finely diced
⅛ red onion, finely diced
3-4 sprigs fresh cilantro
1 stem green onion, chopped fine
1 Tbsp mayonnaise
½ c Panko breadcrumbs (add Sambal Olek & salt to taste)
1 egg for crab cake mix
4 oz lemon thyme Hollandaise sauce
3 oz spinach, washed & trimmed
6 oz hash browns
Free range eggs
Combine first 8 ingredients, leaving a bit of Panko aside, and mix well. Form into 2-ounce balls and roll in leftover Panko. Pan fry or bake until crisp, 2 minutes per side or 10 minutes in a 400 F oven. Sear spinach in pan and set aside until eggs are ready. Poach eggs to desired doneness, about 3 minutes for soft poach. Place crab cakes, then spinach, then eggs onto plates and drizzle with Hollandaise sauce. Garnish with grilled lemon, tomato and fresh thyme or whatever you like!
Filed in: Breakfasts, Eggs, Vegetarian