Cranberry Raspberry Mousse
From The Shelburne Inn, Restaurant & Pub in Seaview, Washington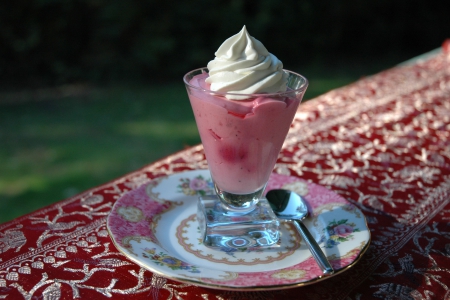 The Shelburne Inn served this delightful summer dessert at a Wild Mushroom event with guest Dawn Jump of Jumpin' Good Goat Dairy. Antioxidant-rich cranberries grow in abundance around the Inn and find their way into many offerings - both savory & sweet!
Ingredients
1 12-oz package cranberries
1/3 cup sugar
¼ cup water
1 ½ cups cranberry "sauce" from above mixture
2 cups raspberries, frozen but beginning to thaw
½ cup cranberry juice
2 Tablespoons unflavored gelatin
8 oz cream cheese, softened
8 oz "Crème de la Chevre" from Jumpin' Good Goat Dairy
1 cup sugar
2 ½ cups heavy cream
2 teaspoons vanilla
Directions
Place cranberries, sugar and water in a saucepan and bring to a boil. Boil slowly until berries "pop" and sauce begins to thicken. Remove from heat and reserve.
Place the 2 Tablespoons gelatin in a small pan with the cranberry juice and stir it in. Set it aside to soften, about 5 minutes. Heat slowly to dissolve the gelatin and allow this mixture to cool. Beat the cream cheese and "Crème de la Chevre" with the sugar. Combine the cranberry sauce and frozen raspberries. The heat of the sauce will help thaw the raspberries. Add one half of the berry mixture to the cream cheese/sugar mixture. With the mixer running slowly, add the softened, dissolved gelatin mixture. Then gently fold in the rest of the berry mixture. Whip the cream and vanilla until stiff peaks form. Fold it into the mousse and the spoon it into glass serving dishes. Chill if not serving right away. Top with whipped cream made with heavy cream whipped with powdered sugar and vanilla. Optional: you may add a little cinnamon to the whipped cream. Yield: 12 large servings or 20 small.
Filed in: Desserts