Spring Salad with Tulip Petal Salad Dressing
From Sooke Harbour House Resort Hotel in Sooke, British Columbia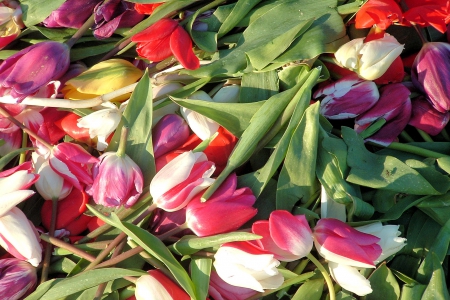 This stepped up Spring salad from Edward Tuson and Sinclair Philip of Sooke Harbour House is simply delightful!
Ingredients
1 cup Tulip Petals
1 cup British Columbia Pear Cider (or Apple Cider)
1/3 cup British Columbia Apple Cider Vinegar
1 Egg Yolk
2 Tbsp Maple Syrup
2 Cups organic safflower oil (Use organic, cold pressed oils, if possible)
Directions
Place all ingredients, except for the safflower oil, into a blender. Blend at low speed until a smooth texture is obtained. Turn the blender to high speed and slowly pour the oil into the mixture. This should take about one minute. Store in a clean jar, and refrigerate until needed. Toss the salad greens in the tulip petal sauce just before serving. Yields approximately 3 1/2 cups Please ALWAYS read the warning labels on edible flowers. Wash and dry enough local, organic, or wild salad greens for your party.
Filed in: Salads & Dressings, Side, Vegetables