Wine Country Inn Granola
From Wine Country Inn & Cottages in St. Helena, California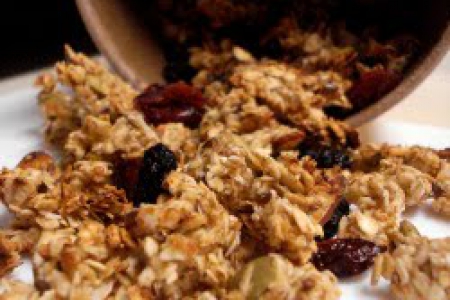 Here is a quick and simple granola recipe that is a guest favorite at the Wine Country Inn. This granola turns out perfectly every time, is very adaptable... and addictive!
Ingredients
2 cups Quaker Old Fashion Oats
1 cup slivered almonds
¼ cup butter, melted
¼ cup honey
¼ cup brown sugar
Sprinkle of cinnamon
Dash of salt
1 cup flaked coconut
1 cup raisins
Directions
Preheat oven to 350°F. Mix together oats and almonds in a large baking pan. In a small bowl, stir together melted butter and honey. Pour over oats and mix well. Sprinkle brown sugar, cinnamon and salt over top. Stir. Bake until golden brown, stirring regularly. Spread coconut over top and return to oven to bake until coconut is medium brown. Remove from oven and pour into a large bowl to cool. Stir regularly while cooling to prevent sticking. Once granola has completely cooled, stir in raisins and enjoy.
Filed in: Breakfasts