Biscuits & Gravy
From The Resort at Port Ludlow in Port Ludlow, Washington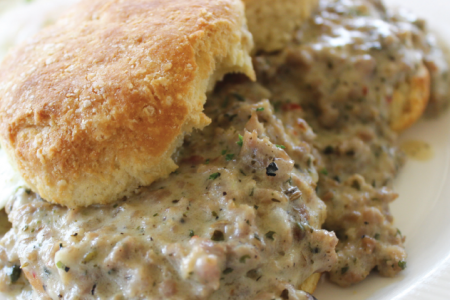 Talk about the ultimate comfort food! ~ This hearty Southern classic is easy to make from scratch with this recipe from Chef Dan.
Country Gravy Ingredients:
1 lb Pork Sausage
1 small onion finely chopped
1/2 tsp crushed red pepper flakes
1 tbsp garlic minced
1/4 cup butter
salt and pepper to taste
1/4 cup all purpose flour
1 tbsp fresh sage minced
1 tbsp fresh thyme minced
1 quart half and half
1 cup chicken stock
1 tbsp fresh parsley
Preparation:
In a skillet on medium heat cook pork, onion, red pepper flakes and garlic until pork is crumbly. Drain off excess fat, but leave a small amount.

Combine butter, salt and pepper with the meat mixture and stir until butter melts. Slowly sift flour over the top. Mix gently and allow misture to cook for 5 minutes. Deglzaze pan with chieckn stock then add the sage and thyme.

Stir in the half and half. Do not let it boil vigorously or it will burn. If it thickens too much add more half and half. Adjust the taste with more salt and pepper if needed. Add a sprinkle of parsley to finish.

Buttermilk Biscuits Ingredients:
1 1/2 cup all purpose flour
1 tbsp sugar
2 tsp baking powder
1/2 tsp salt
1/2 tsp baking soda
1/2 cup butter cut into 1/4 inch pieces
1/2 cup buttermilk
Preparation:
Preheat oven to 425F. Whisk flour, sugar, making powder, salt and baking soda in a large bowl to blend. Using fingertips rub chilled butter into dry ingredients until mixture resembles course meal. Add buttermilk and stir until evenly moistened.

Using 1/4 cup dough for each biscuit, drop biscuits onto greased baking sheet, spacing 2 inches apart. Bake until biscuits are golden brown on top, about 15 minutes. Cool slightly. Serve warm.
Filed in: Side