Campbell House Scones
From Campbell House in Eugene, Oregon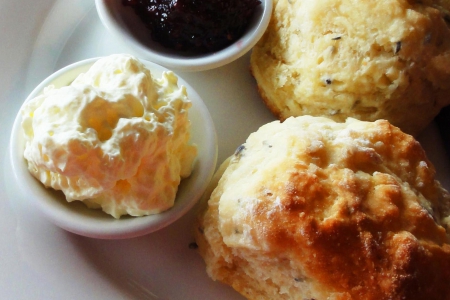 The perfect brunch or tea time treat, these scones from the Campbell House are fun to make and easy to adapt.
Ingredients:
3 cup ap flour
½ cup sugar
2 ½ teaspoons baking powder
½ teaspoon baking soda
¾ teaspoon salt
¾ cup firm butter cut into small pieces
¾ cup chopped dried fruit or nuts
1 cup buttermilk
cinnamon sugar
Directions: Preheat oven to 400 degrees. In large bowl, stir together first 5 dry ingredients until well blended. Using pastry blender or knifes cut butter into flour mixture until it resembles coarse cornmeal. Stir in fruits or nuts, if using. Make a well in center of butter, flour mixture and add buttermilk all at once. Stir mixture with fork until dough pulls away from sides of bowl. With hands, gather dough into ball and turn out onto lightly floured surface. Divide dough into 4 parts and lightly pat each part into a circle. Cut each circle into 4 parts and place wedges on greased cookie sheet. Sprinkle scones with cinnamon sugar if desired. Bake 12 minutes. Serve warm with jam and butter.
Filed in: Scones