Flat Iron Steak
From The Resort at Port Ludlow in Port Ludlow, Washington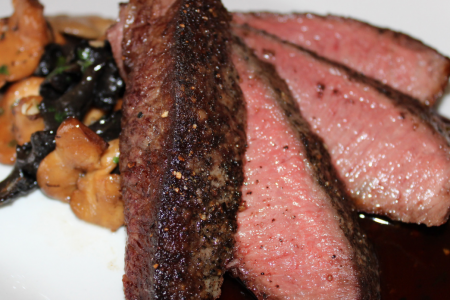 This flat iron steak recipe uses Finnriver habanero cider to bring out the best flavor in this perfectly cooked, tender cut of beef.
Ingredients:
Flat iron steaks 4 - 8 oz.
Salt 1 1/2 teaspoon
Black pepper 3/4 teaspoon
Canola oil 3 tablespoons
Shallot finely chopped 1 medium
Garlic cloves, finely chopped 2
Finnriver habanero cider 8oz (give or take)
Demi-glace 3 tablespoons

Directions Pat steaks dry and sprinkle steaks with 1 teaspoon salt and 1/2 teaspoon pepper. Heat 2 tablespoons oil in a 12-inch heavy skillet over moderately high heat until hot but not smoking, then cook steaks in two batches, turning over once, until meat is just medium-rare, 2 minutes per side. Transfer steaks to a platter as cooked and keep warm, loosely covered with foil. (Do not wipe skillet clean.) Add remaining oil, garlic, and shallots to skillet. Sauté over medium high heat, stirring, until shallot is golden, about 4 minutes. Add cider and cook until reduced to about ¼ Cup. Add demi-glace, reduce heat and simmer about 3 more minutes. Adjust seasoning with remaining salt and pepper as needed for your preference.Slice rested steaks across the grain. Sauce and enjoy.
Filed in: Beef