Overleaf Lodge Scones
From Overleaf Lodge & Spa in Yachats, Oregon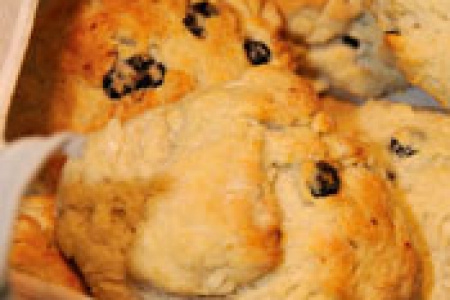 Many of our Overleaf Lodge guests request recipes of our breakfast items. Here is the yummy scone recipe that so many of you devour during your stays with us. Give it a try and add one of your favorite fruits (dried or fresh) or nuts. Have fun!
Ingredients:
5 cups flour
3/4 cup sugar
1 1/2 tablespoons baking powder
3/4 teaspoon salt
1 1/4 pound unsalted butter (cubed)
1 cup heavy whipping cream
1 1/2 cups buttermilk
1 1/2 cups berries, dried fruit, and or chopped nuts, etc.
Directions:
Chill all the dry ingredients and the cubed butter in a mixing bowl. Mix the dry ingredients and the butter until crumbly in a mixer. Chill the mixture again. Add the cream and buttermilk by hand until the mixture is evenly moist. Add the berries, dried fruit, or nuts, etc. and mix by hand. Shape the dough into a cylinder approximately 4-5 inches across. Cut into 5 disks and then cut into wedges. Wash the edges with a beaten egg. Wedges may be frozen at this point. Bake at 350 degrees approximately 20-30 minutes until evenly browned.
Filed in: Scones