Quick Coffee Cake
From Overleaf Lodge & Spa in Yachats, Oregon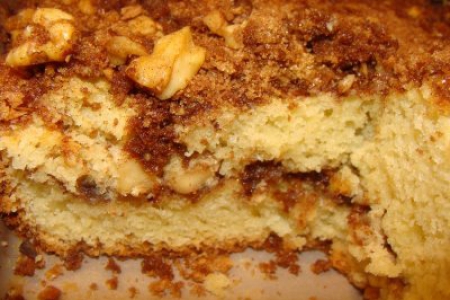 Lots of coffee cakes take up to an hour to cook. This one is done in 30 minutes allowing you an extra half an hour in bed which by amazing coincidence is the precise amount of sleep the average person needs.
Ingredients
1/2 cup unsalted butter, cut into bits and softened
1 cup sugar
2 eggs
2 cups all-purpose flour
1 tsp. baking soda
1 tsp. baking powder
1/2 tsp. salt
1 cup buttermilk
1 tsp. vanilla
1/3 cup firmly packed brown sugar
1/4 cup granulated sugar
1 tsp. cinnamon
1/2 cup chopped walnuts
Directions
Pre-heat oven to 350 degrees and lightly butter a 13x9 inch baking dish.
In a large bowl, with an electric mixer, beat all the cake batter ingredients together until smooth and fluffy. In another bowl, stir together all the topping ingredients.
Pour half the batter into the baking dish and sprinkle half the topping mix evenly over it (which of course means it will be the middling mix as well). Repeat with the rest of the batter and topping mix.
Bake in the middle of the oven until a tester (toothpick or whatever) comes out clean - about 30 minutes. Let it cool in the pan.

Variations: You could add 1/4 cup of sun-dried cranberries to the batter mix, or dried blueberries, or dried apricots - almost any dried fruit really, although raisins and currants won't win any prizes for creativity.
Filed in: Cakes