Ravens' Scones
From Stanford Inn by the Sea in Mendocino, California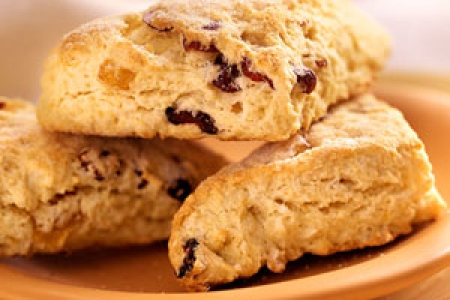 Stanford Inn's the Ravens' Restaurant realize good food is meant to be shared. So the Ravens' has agreed to share their most often requested recipe. Based on a traditional English scone recipe, the Raven's use all organic ingredients which they have found to make a huge difference.
Ingredients & Directions:
1. Mix the following dry ingredients
4 ¼ cups all purpose organic flour
¾ cup sugar
1 teaspoon baking soda
1 ¼ teaspoons baking powder
1 teaspoon salt
1 teaspoon cream of tartar

2. Cut in with two knives or a pastry blender
¾ pound organic butter, cut into small squares
(When you're finished with this process, your mixture should look like small peas.)

3. Mix the following wet ingredients in a separate bowl or container
½ cup buttermilk (may need a bit more)
½ cup cream (may need a bit more)
1 egg, beaten
Splash vanilla

4. With swift, quick strokes, fold the wet mixture into the dry mix. Do not over mix.
Assembly:
Preheat oven to 350 degrees
1. Place mixture on a lightly floured surface and press together without over working the dough.
2. Flatten with a rolling pin into a rectangle. Fold dough into thirds, like you would fold a letter. Add one cup of fruit of your choice. Roll and fold two more times.
3. Splash buttermilk or cream on top, brush evenly, then sprinkle with sugar.
4. Cut into triangles and bake in a 350 degree oven until golden brown, approximately 30 to 40 minutes.
Filed in: Scones