Grilled Quail with Tempranillo Syrup
From Steamboat Inn in Idleyld Park, Oregon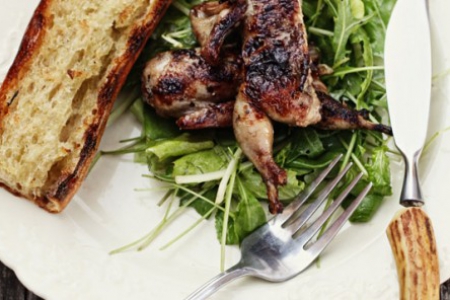 Quail can be prepared many ways, but because of the small size, they cook quickly and are especially perfect for grilling. This grilled quail and tempranillo syrup recipe from the Steamboat Inn is wonderfully rich and pairs exquisitely with some warm bread and a fresh green salad.
Ingredients
1, 750 ml bottle Tempranillo (Abacela and Reustle-Prayer Rock Vineyards from the Umpqua Valley both produce great Tempranillo)
6 quail, breast and backbone removed
3 cloves garlic, chopped
3 tablespoons coarsely chopped fresh rosemary
1/3 cup olive oil
Directions
Pour the wine into a non-reactive saucepan and add 3 tablespoons brownsugar. Heat on high until it comes to a boil. Lower heat to medium andreduce until you have 1/3 – ½ cup "syrup" (it will thicken as it cools). Remove from heat, cool and refrigerate until ready to use. May be used atroom temperature or reheated over a low flame. Combine the garlic, rosemary, and oil. Pour over the quail. Cover and marinate for a minimum of two hours or as long as 6 hours. Prepare the grill. Remove the quail from the marinade and brush off excessrosemary. Grill the quail over a medium fire, 3- 4 minutes per side,sprinkling each side with kosher salt and pepper. You want a little pink inthe meat – if overcooked the breast meat will dry out. Transfer to a serving platter and drizzle with the Tempranillo syrup. If the quail are small you may want to serve 1 ½ to 2 per person as an entree or if used as a course in a larger meal ½ quail per person served on a small bed of greens.
Filed in: Poultry