Attend the Time Traveling Documentary Concert, Romancing the West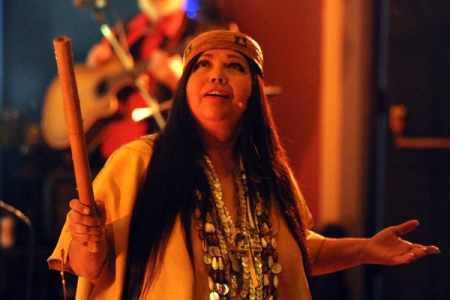 The time traveling documentary concert Romancing the West comes to Historic Jacksonville Inn, Sunday, March 29th at 6:00 pm, the first stop of a 10 -state annual tour. In April of 2013, singer/songwriter Christina Lynn Martin and Cowboy Poet and Balladeer Butch Martin co-produced Romancing the West and set out to tell the human story of over 250 years of the people of the American west.
The show now in it's seventh year features the music of every era from the old West, to jazz, big band, and Butch and Christina will be once again joined by Martin Gerschwitz of Iron Butterfly who has been with the show since the first tour and will bring to life the music of the 1960's and 70's. Martin's original semi-classical music will be featured in the tribute to National Parks.


The show takes the audience on an epic journey through the trials, tribulations and triumphs of the people of the West and celebrates their diverse cultures, lives and legacy. The story is told in historic photographs, rare film, video, live poetry and original music written by Christina, songs about the West including "City of Roses" (Portland), "Columbia" (Columbia River), "Oh Oregon" written for the 150th birthday of Oregon and "Sunset Over Jacksonville". Butch recites master poems like "The Ballad of William Sycamore" and Lasca. Within the show is a moving tribute to veterans, a majestic musical tribute to National Parks, and to hometown America.


For tour dates, tickets and radio show times visit RomancingtheWest.org.