Relax on the Beach at La Jolla Cove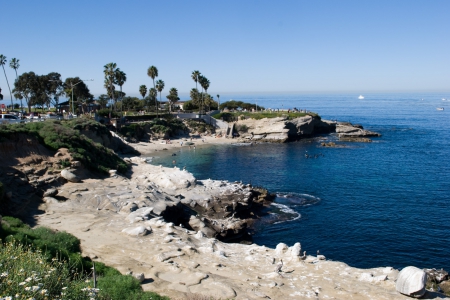 Come and relax at the B&B Inn at La Jolla, California. During the day, take the opportunity to escape to the small quiet beach at La Jolla Cove. A welcome change from the big noisy city and beaches, La Jolla Cove is considered one of the most beautiful beaches in Southern California.
La Jolla Cove is well known for swimming, scuba diving and snorkeling. The cove is located within a marine refuge area, so it is carefully protected and preserved. Scripps Park is a grassy area located on the bluffs above the beach popular for picnicking. Also near the cove, is the magnificent "Sunny Jim Cave" which is only a short swim away from the beach.
The B&B Inn at La Jolla offers a luxurious home away from home and is a perfect addition to the beautiful seaside village. Each room is individually decorated and this wonderful Inn is only steps away from some of the best beaches in California -such as La Jolla Cove! The staff are extremely helpful, with suggestions as to what to do or where to go. Full candlelit breakfasts are served in the dining area or in the lovely summer gardens. Also, wine and cheese hour as well as picnic baskets are available to guests. Today this Inn is a La Jolla landmark and an internationally known destination renowned for its beauty and elegance.

For the most rellaxing and unique lodging in La Jolla visit: