Visit Virgil's at Cimmiyotti's Restaurant & Lounge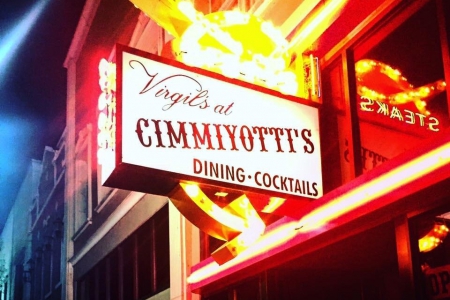 Cimmiyotti's, founded in 1959 by Ann and Paul Cimmiyotti is famous for their steaks and considered an iconic landmark by many.
The restaurant sold in 1994, passing through many hands until eventually closing in 2005 until 2008 when through divine circumstance, current owner Jennifer Keaton passed through Pendleton. It was love at first sight and on July 2009 Cimmiyotti's was reopened as Virgil's at Cimmiyoti's. - Virgil's was added to honor Jennifer's late father and Cimmiyoti's remained to pay tribute to the Cimmiyoti family legacy.

The ambience is unpretentious, cool and charming while the food is top notch. The steaks, lobster tail and Virgil's Oscar are to die for and the staff is excellent, consistently going above and beyond to make special occasions truly special.

For the full Pendleton experience try their "Mad Hattan", Cimmiyoti's spin on the classic featuring Pendleton Rye Whisky and orange bitters. Shaken and served up with an orange twist.