Walk Among Trees Made of Stone in the Fascinating Petrified Forest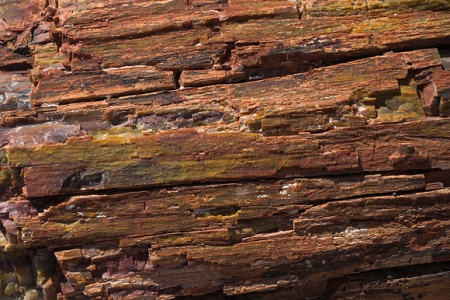 Located in the charming and historic country village of Calistoga is the fascinating Petrified Forest! Visit the forest for your chance to step back in time over 3 million years and walk the trail of the petrified giant Redwoods.
Over 3 million years ago a volcano in the direction of Mt. St. Helena erupted. The eruption was so violent it was described as "an earthquake that hurled down the giant redwood… fire, ashes, molten lave came out and coursed down the valley in which now lies the Petrified Forest". It's easy to mistake some of the smaller ones you see for recent windfalls, but further up the hill, it's obvious that these trees aren't wood, but stone!

An ocean covered the area at times during the past 3 million years and in the museum and nature store there are fossilized fish, shells along with petrified worms, snails and clams. Along the trail you have the opportunity to observe 2 Valley Oaks that are both over 400 years old, the Pit Pine Tree, The Giant (60 feet in length and 6 feet in diameter), the Queen of the Forest, Tunnel Tree and much more.

Calistoga has been named a Distinctive Destination by the National Trust for Historic Preservation and the village really lets you see wine country as it was before freeways and fast food - only two-lane roads lead there and fast food franchises are banned by law. The Petrified Forest is locally owned and family operated. New trees are unearther as funds allow, so the collection has grown for generations and will continue to do so.