Citrus Salad with Ginger Crème Fraîche
From Heceta Lighthouse Bed & Breakfast in Yachats, Oregon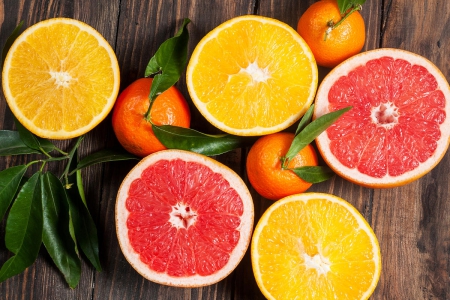 Winter is a perfect time for this salad, with the abundance of ripe and succulent citrus fruits available. Choose a complementary variety.
Ingredients: 1 1-inch piece fresh ginger
½ cup crème fraîche (see page 176)
4 teaspoons sugar
1 pomelo or ugli fruit
1 ruby red grapefruit
1 blood orange
2 honey tangerines

Directions: To peel the ginger, scrape it with the tip of a spoon. With a fine grater, shave the ginger and add it to the crème fraîche. Stir in the sugar and
set aside. Zest (see page 184) several curls from each fruit before removing the rind. To remove the rinds, put the citrus on a cutting board and hold it steady with one hand on top of the fruit. Starting from the top and moving down, carve just between the rind and the fruit. Rotate the fruit as each strip of peel is removed until the citrus is completely peeled. To section the fruit, cut in between the membrane that separates each section. Cut on both sides of the membrane to the center of the fruit; each section should pop out. Try not to let the sections break. (After removing all the sections, squeeze the fruit of its remaining juice and drink it!) Some citrus has very thin sections and would be too difficult to section this way. Therefore, after you cut off the rind, thinly slice the citrus into rounds and then perhaps quarter them. Lay out small plates. To serve, start with the largest wedges and place them in a circle around each plate's edge. Face them in the same direction with the points in the middle coming in toward each other. Descend in size so you fill in the gaps between the larger pieces, eventually ending with the smallest piece. You'll see a flower shape emerge. Arrange any fruit cut into quarters in the middle of the plate. Spoon a small dollop of the crème fraîche mixture in the center. Accent the center with the reserved zest curls. Serve a small plate to each guest.
Filed in: Salads & Dressings