Lemon Zested French Toast
From Cameo Heights Mansion in Touchet, Washington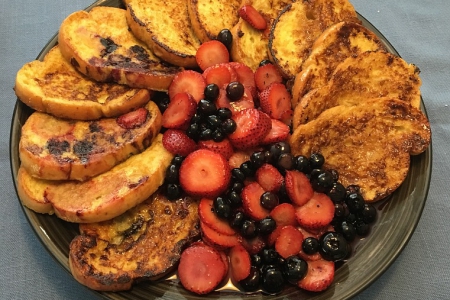 Are you always in search of the next great french toast recipe? Look no further than this lemon lovers dream from Cameo Heights Mansion.
Ingredients
1 Whole fresh lemon, Zested
9 Texas Toast, extra thick slice
7 Egg
1 teaspoon Vanilla Extract
1/2 cup Sugar
2/3 cup Half and Half
Directions
Beat egg in deep bowl.
Add half and half, vanilla,and sugar.
Zest in one lemon rind and beat together with egg and milk mixture.
Pour egg mixture into a flat pan and lay Texas Toast until egg is absorbed, turning once.
Fry on hot griddle 275 degrees until browned and egg is set. Cut in wedges, dust with powdered sugar. Serve with a drizzle of Lemon Curd and fresh fruit such as peaches, strawberries, apricots, or raspberries.
Filed in: Breakfasts, Vegetarian