Neah Bay Black Cod
From The Resort at Port Ludlow in Port Ludlow, Washington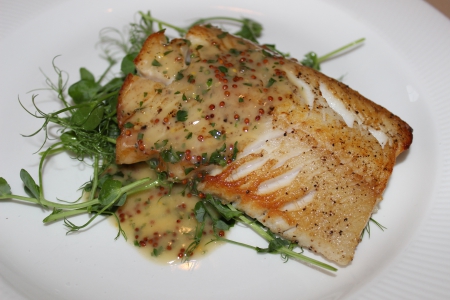 Black cod (also known as sablefish) is actually a rich white fish that has one of the highest levels of healthy Omega 3 fatty acids, that gives it a wonderful texture and flavor. Serve this dish from the Resort at Port Ludlow over some greens for a simple, healthy and impressive looking meal.
Ingredients:
4-8oz cod filets
1 1/2 tsp salt
3/4 tsp black pepper
2 tbs canola oil
1 tsp fresh grated ginger
8oz (give or take) raspberry-ginger cider
3 tbs whole unsalted butter
1/2 tbs whole grain mustard
Preparation:
Pat filets dry and sprinkle with 1 teaspoon salt and 1/2 teaspoon pepper.
Heat 2 tablespoons oil in a 12-inch heavy skillet over moderately high heat until hot but not smoking, sear fish skin side up in two batches, turning over once, until fish is just medium-rare, 2-3 minutes per side. Transfer filets to a platter as cooked and keep warm, loosely covered with foil. (Do not wipe skillet clean.)
Discard excess oil from skillet, add cider and ginger. Cook until reduced to less than 1⁄4 cup. Whisk in the 3 tablespoons butter and 1⁄2 Tablespoon of whole grain mustard. Spoon sauce over fish and enjoy!
Filed in: Seafood