Roasted Butternut Squash Soup
From Campbell House in Eugene, Oregon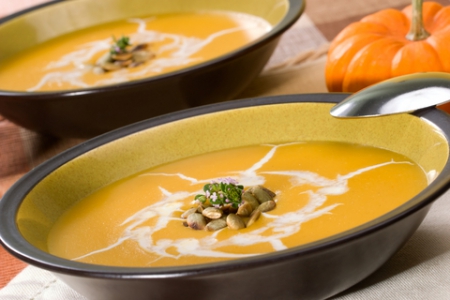 A wonderful treat on a cold, blustery day, this nutritious soup is a great way to make use of abundant local squash. For a personalized presentation, swirl with cream or a flavored oil and top with seeds, sprouts or fresh herbs.
Ingredients
½ gallon Vegetable Broth or Water
4 lb. Roasted Butternut Squash
1 lb. Onion, minced
1 lb. Yam, peeled, cut in chunks
2 Carrots, peeled, cut in chunks
2 ea. Parsnips, peeled and diced
3 ea. Bay Leaf
2 tsp. Smoked Paprika
1 tsp. Coriander, ground
½ C Olive Oil
2 tsp. Kosher Salt
1 tsp. White Pepper
Directions
In a large pot, heat oil and add onion and carrot. Saute' for several minutes, add ½ gallon water or vegetable broth and bring to a simmer; add the squash, yam, parsnips and seasonings. Simmer for about 45 min. Remove bay leaves and puree the soup until smooth; adjust seasonings and finish with cream for a richer soup.
Filed in: Soups, Vegetables