Ravens' Crab-less Cakes
From Stanford Inn by the Sea in Mendocino, California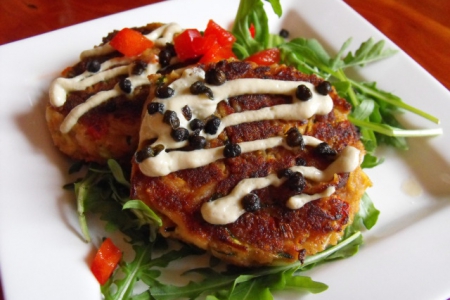 Stanford Inn's own Ravens' Restaurant came up with this amazing crab-less cake recipe. A wonderful interpretation of the classic, these cakes make a fabulous appetizer or brunch dish.
Crabless Cake Ingredients
1 cup yellow onion, bruniose
1 cup celery, bruniose
½ cup sour cream (see recipe)
2 teaspoons Worcestershire (vegan)
2 teaspoons Dijon
1 tablespoon season mix (see recipe)
2 cups zucchini, peeled & grated
1 cup bread crumbs
Directions
Place all ingredients in bowl and mix thoroughly, let set for 5 minutes. In a sauté pan, heat oil. Form 2oz pattie with hands and brown 2 minutes on each side. Serve immediately
Crabless Cake Seasoning Ingredients
2 tablespoons celery seed
2 tablespoons black pepper
2 tablespoons red pepper
1 tablespoon cinnamon
1 tablespoon ginger
2 tablespoons mustard
Directions
Mix thoroughly.
Vegan Sour Cream Ingredients
2 packages extra firm silken tofu
2 tablespoons brown rice vinegar
1 teaspoon dry mustard powder
1 ½ tablespoons nutritional yeast
¼ cup apple cider vinegar
¼ cup lemon juice
½ teaspoon salt
1 tablespoon brown rice syrup
2 teaspoons garlic
Directions
Place all ingredients in blender and process until smooth.
Filed in: Appetizers & Snacks, Vegetarian