Grandma's Bread
From Steamboat Inn in Idleyld Park, Oregon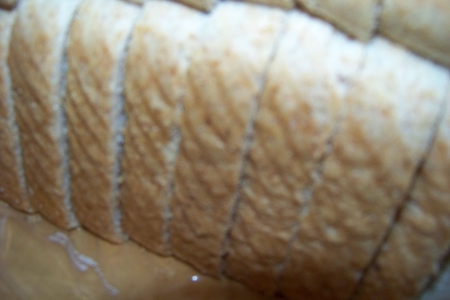 A healthy, hearty and delicious bread recipe from the Steamboat Inn's first cookbook, Thyme and the River.
Combine in a large bowl
2 cups wheat germ
1 1/2 cups cornmeal
1/3 cup carob powder
2 cups soy flour
14 cups whole wheat flour
7 teaspoons salt
2 cups sunflower seeds
2 cups milk powder
1/2 cup brewers yeast powder
2 cups millet
4 cups white flour
Cook oats
Cook 1/2 cup regular oats in 1 1/2 cups water 10 minutes, or cover with water and cook in the microwave for one minute.
Combine and set aside
3 tablespoons yeast
1/2 cup lukewarm water
1 teaspoon honey
Combine in a large bowl
9 cups hot water
1 1/2 cups honey
1 1/2 cups oils
2 cups carrot puree
Combine all ingredients in the large bowl. Add more white flour until the dough is a consistency that can be kneaded. Turn onto a floured board and knead. (Sometimes it's easiest o knead half at a time!) Please in an oiled bowl. Cover and let rise in a warm place for 1 to 1 1/2 hours. Punch down and let rise again. Divide into 1 1/4 lb loaves. Knead and place in oiled 1-pound coffee cans. While oven is preheating, let the bread rise to the third ring of the can. Bake in a 350 degree oven about 40-50 minutes, rotating the loaves if necessary. Makes 16-18 loaves and freezes well.
Filed in: Breads