Blue Wing Saloon Braised Lamb Shanks
From Tallman Hotel in Upper Lake, California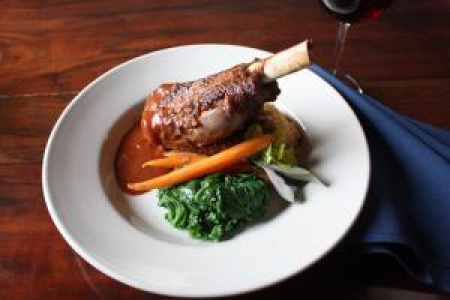 This popular dish is featured in the Tallman Hotel's restaurant, the Blue Wing Saloon; it showcases locally grown lamb and pairs beautifully with Lake County wines, such as Brassfield Estate Eruption Proprietary Red Wine.
Ingredients
8 center-cut lamb shanks
1 cup flour, optional
2 onions, chopped
2 carrots, peeled and chopped
4 stalks celery, chopped
2 Tablespoons garlic, chopped
1 Tablespoon rosemary, chopped
1 Tablespoon oregano, chopped
2 cups tomato puree
Salt and pepper, to taste
1 bottle red wine, preferably same or similar to dinner wine
Directions
Preheat oven to 350 degrees F. Heat a large skillet over medium heat, and add oil to coat the bottom. Toss the shanks in four, if desired, and place in pan. Sear until golden, then turn. When both sides are browned, place in a deep roasting pan. Top with vegetables, herbs, tomato puree, salt, pepper, wine and enough water to cover at least halfway up the lamb. Cover with foil and bake in a preheated oven for 2 hours or until tender. Serves 8.
Filed in: Lamb