Baked French Toast
From Churchill Manor in Napa, California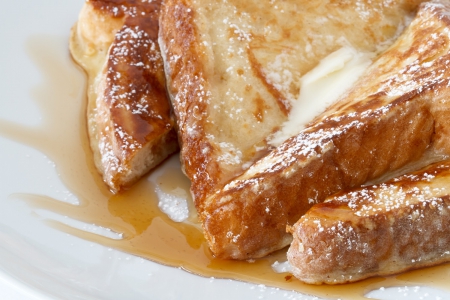 This cinnamon and vanilla baked french toast recipe from Churchill Manor is a guest favourite and breakfast classic. Slices of french bread are covered in whisked eggs and milk, then cooked in the oven. This dish can can easily be prepared ahead of time and refrigerated until you are ready to bake.
Ingredients:
1 cup brown sugar
½ cup butter, melted
3 tsp. ground cinnamon
3 tart apples, peeled, cored, and sliced
½ cup raisins
1 loaf French bread cut into 1 inch slices
6 eggs
1½ cup milk
1 T. vanilla
Directions: Combine brown sugar, butter and 1 tsp. cinnamon in a baking dish. Add apples and raisins, toss to coat well. Spread mixture over bottom of baking dish. Arrange bread slices on top. Mix eggs, milk, vanilla, and 2 tsp. cinnamon. Pour mixture over bread, soaking break completely. Cover with foil and refrigerate 4 to 24 hours. Bake with foil for 40 minutes at 375 degrees. Uncover and bake 5 more minutes. Serve warm with a dollop of whipped cream and fresh fruit.
Filed in: Breads, Breakfasts, Vegetarian