Coconut Bread
From Heceta Lighthouse Bed & Breakfast in Yachats, Oregon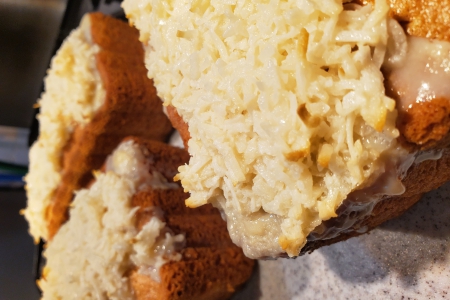 Carole has made her bread for many years and every time she makes it Michelle tells her, "I like it, but it needs something." So they change this and change that. Michelle recommended adding coconut powder in place of the flour, so they came up with the macaroon topping. After years of experimenting, this bread has become the perfect "ode to the coconut".
Ingredients:
Topping:
4 cups all purpose flour
1/2 cup coconut powder
2 tablespoons baking powder
1 1/2 teaspoons salt
3 large eggs
1 1/2 cups sugar
1 1/2 teaspoons vanilla extract
1 cup whole milk
1 cup vegetable oil
7 ounces sweetened condensed milk
1 1/1 cups coconut flakes
2 cups coconut flakes
7 ounces sweetened condensed milk
1 teaspoon vanilla extract
3/4 teaspoon almond extract
Preheat the oven to 350 an oil three 8 by 4 inch pans with baking spray. Sift the flour, coconut powder and salt together. Set aside.
Beat the eggs in a mixer. Add the sugar and beat. Add the vanilla, milk, oil and condensed milk. Scrape down the sides and bottom of the bowl and mix again. Add the dry ingredients and mix just to combine. Stir in the coconut flake with a spatula.
Divide the mixture among the pans, put them on a baking sheet, and bake for 50 minutes.
Remove the pans from the oven and quickly top each bread with one third of the topping. Keep the topping centred so it stats on the top of the bread.
Return the breads to the oven and bake for an additional 5 minutes. Check for doneness. Breads are done when a toothpick inserted in the centre of 2 loaves comes out clean. Cool breads completely before removing them from the pans.
Topping: Mix the coconut flakes, condensed milk, and vanilla and almond extracts; set aside.