Garden Scramble
From Stanford Inn by the Sea in Mendocino, California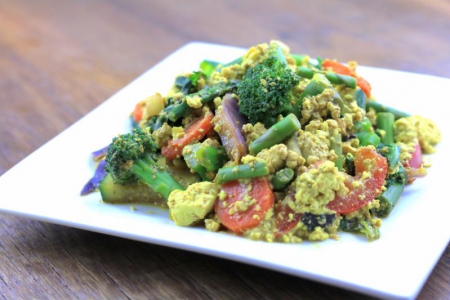 Healthy and delicious, this Garden Scramble recipe from the Stanford Inn is definitely a favourite for Spring... or anytime really.
Ingredients:
1 pound extra-firm or firm tofu, drained and pressed*
½ teaspoon turmeric
1 tablespoon olive oil
1 clove garlic, finely chopped
Pinch of red pepper flakes
1 cup sliced cremini mushrooms
½ cup thinly bias-sliced carrots
6 asparagus spears, cut into 1 1/2" lengths
½ cup julienned red bell pepper
½ cup cauliflower florets
½ cup broccoli florets
1 medium red onion, sliced into half-moons
8 ounces Swiss chard, cleaned and torn into small pieces
¼ cup Braising Sauce (see recipe below)
Directions:
1. In a medium bowl, crumble tofu. Add turmeric and mix with tofu.
2. In a medium sauté pan, heat olive oil over medium heat and quickly sauté garlic (for about 30 seconds).
3. Add red pepper flakes, mushrooms, carrots, cabbage, red bell pepper, cauliflower, broccoli, and onion. Sauté until vegetables are tender.
4. Add the greens. When they begin to wilt, add Braising Sauce. Allow sauce to heat through.
5. Quickly add tofu mixture and gently turn into the greens, heating it through. Serve.
*To press tofu: Wrap tofu in a paper towel and press firmly to remove excess water. Keep wrapped for at least 1 hour for best results, or up to 24 hours.
Braising Sauce
1-2 cloves garlic, finely chopped
1 tablespoon water
½-inch slices fresh ginger root
1/2 teaspoon turmeric
1/4 cup low sodium Tamari
1/4 cup water
Side note: check out the medicinal value of culinary amounts of turmeric and ginger root!
1. In a medium saucepan, heat the 1 tablespoon water and minced garlic, braising for three minutes or until the garlic softens. Then add the ginger, and turmeric. Continue to braise for 1 minute, making sure the ingredients do not burn. Add water if necessary.
2. Add the 1/4 cup tamari and 1/4 cup water, and simmer, uncovered, over medium heat for 15 minutes, stirring occasionally.
3. Refrigerate until ready to use.
Filed in: Breakfasts, Vegan, Vegetables, Vegetarian