Jalapeño Cornbread
From Stanford Inn by the Sea in Mendocino, California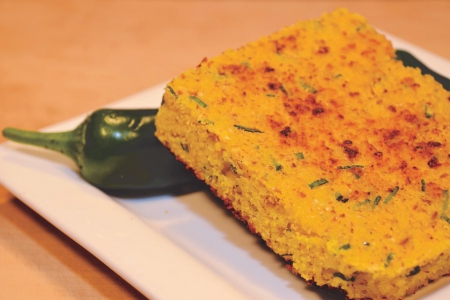 Spice things up with this recipe for Jalepeno Cornbread from Stanford Inn's Ravens' Restaraunt featured in Men's Journal.
Ingredients
2 tbsp ground flaxseed
⅓ cup water
1 ¼ cups masa harina or yellow corn flour
1 ½ cups cornmeal or coarse polenta
¼ cup sugar
1 tsp baking powder
1 tsp salt
½ tsp baking soda
2 ½ cups unsweetened Silk soymilk
¼ cup sunflower oil
2 tbsp apple cider vinegar
½ tbsp agave or maple syrup
3 scallions, thinly sliced on the bias
1 jalapeño, seeded and minced
Directions
Preheat oven to 350°. Oil a 9 x 13-inch cake pan. In a small mixing bowl, whisk together flaxseed and water. Let stand for about 10 minutes to thicken. In separate bowl, combine corn flour, cornmeal, sugar, baking powder, salt, and baking soda. Mix thoroughly. In separate large bowl, combine soymilk, applesauce, oil, vinegar, and agave with the flaxseed mixture.

Using a rubber spatula, combine the wet mixture with the dry and mix well to thoroughly incorporate. Batter will be slightly runny. Fold in scallions and jalapeño.

Gently pour batter into prepared pan. Bake 20 to 25 minutes, until edges are slightly golden brown.
Filed in: Breads, Gluten Free, Side, Vegan, Vegetables, Vegetarian