Orange Bread
From Heceta Lighthouse Bed & Breakfast in Yachats, Oregon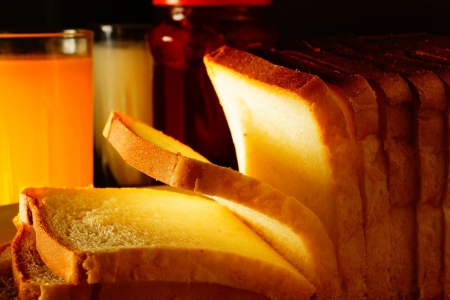 This quick bread recipe from Heceta Head Lighthouse B&B uses one whole orange for extra bright citrus flavors everyone will adore.
Ingredients
1 orange
Orange juice, as needed
2 eggs
1/2 cup vegetable oil
4 cup all-purpose flour
1 cup plus 2 tablespoons granulated sugar (divided)
1/2 teaspoon salt
2 tablespoons baking powder
1 (12 ounce) can evaporated milk
1 teaspoon vanilla extract
Directions
Oil two 8 x 5-inch loaf pans.
Wash orange, cut into quarters and remove seeds (do not peel). Place in a food processor or blender and process until pureed. Add orange juice if necessary to measure 1 cup.
In a medium bowl, beat eggs until foamy.
Add oil and beat for 1 minute.
Add orange puree and stir to combine.
In another bowl, sift together the flour, 1 cup sugar, salt and baking powder.
Add the dry ingredients alternately with the evaporated milk and vanilla extract to the egg mixture beginning and ending with dry ingredients, mixing well.
Heat oven to 400 degrees F.
Divide batter evenly between prepared pans. Let batter rest for 20 minutes.
Sprinkle 1 tablespoon sugar over each loaf.
Bake for 20 minutes.
Score the top of each loaf lengthwise with a sharp knife.
Reduce heat to 300 degrees F and bake another 40 minutes. Bread is done when a cake tester inserted in the center of the bread comes out clean.
Let bread rest for 20 minutes before turning out of pans.

Makes two 8 x 5-inch loaves

This batter can be divided among 5 mini bread pans and baked for 20 minutes at 400 degrees. Reduce heat to 300 degrees F and score top. Bake another 20 minutes or until bread tests done.
Filed in: Breads, Breakfasts