Vegan Portabello Benedict
From Stanford Inn by the Sea in Mendocino, California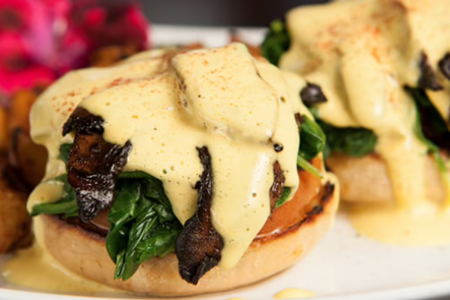 This easy, 4 step recipe is Stanford Inn by the Sea's take on eggs benny that swaps out chicken eggs for umami rich portabello mushrooms.
For the marinated mushrooms:
½ cup white wine
3 cloves garlic, minced
3 tablespoons Dijon mustard
¼ cup olive oil
2 teaspoons salt
½ teaspoon freshly ground pepper
4 to 6 portabello mushrooms, de-stemmed
For the hollandaise sauce:
2 tablespoons olive oil
¾ cup silken tofu
1½ tablespoons fresh lemon juice
¼ teaspoon turmeric
⅛ teaspoon salt
⅛ teaspoon freshly ground pepper
⅛ teaspoon cayenne pepper
¼ cup vegan margarine, melted
For the Benedict:
4 to 6 English muffins, sliced in half and toasted
2 tomatoes, sliced ½-inch thick
6 to 8 cups spinach, tightly packed, steamed
Paprika, for garnish
What you do:
1. Preheat oven to 350 degrees. For the mushrooms, in a large mixing bowl, combine wine, garlic, mustard, oil, salt, and pepper. Coat each mushroom with marinade and place on sheet tray.
2. Cook mushrooms gill-side up for about 20 to 25 minutes. Rotate tray and cook for another 10 minutes or until mushrooms are tender. Slice mushrooms thinly and set aside.
3. For the Hollandaise sauce, using a high-speed blender or food processor, purée oil, tofu, lemon juice, turmeric, salt, pepper, and cayenne. While processing, add melted margarine and continue blending until mixture is smooth.
4. On a plate, place toasted English muffins. Top with 1 slice of tomato, a handful of spinach, several sliced portabello mushrooms, Hollandaise sauce, and paprika. Serve warm.
Filed in: Breakfasts, Eggs, Vegetables