Cherry Cobbler
From Stanford Inn by the Sea in Mendocino, California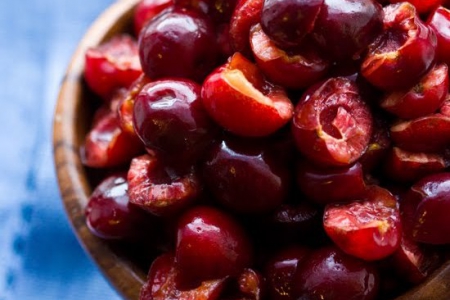 Recently, the Stanford Inn by the Sea's Ravens' Restaurant made it to #1 on VegNews' Vegan Bucket List in VegNews Magazine! Inspired by their own Certified Organic Gardens, the Ravens' nationally acclaimed food has been described as out of this world. Try this delectable vegan, gluten free, raw cherry cobbler recipe and enjoy a dessert that you can feel good about!
Ingredients
½ cup walnuts
½ cup coconut flakes
4 - 6 dates, pitted
Pinch of salt
3 cups fresh cherries, pitted
6 - 8 dates, pitted
1 TBSP lemon juice
1 TBSP cinnamon
Pinch of salt
Directions
In a food processor, blend walnuts until finely chopped, then add coconut. While processing, add dates one at a time until mixture becomes crumbly. ix in salt. Set aside. In a blender process 1 cup cherries with enough dates to create a thick sauce. We recommend a VitaMix - which you can buy on line at http://www.vitamix.com/ or at the Stanford Inn by the Sea. Transfer to bowl. Fold in remaining ingredients. Assemble by using a fancy glass of your choice, place 1/4 - 1/3 cup filling in bottom, and top with thin layer of crumble. Refrigerate and serve cold.
Filed in: Desserts, Gluten Free, Vegan