Treat yourself to Breakfast by Khambay Porterkhamsy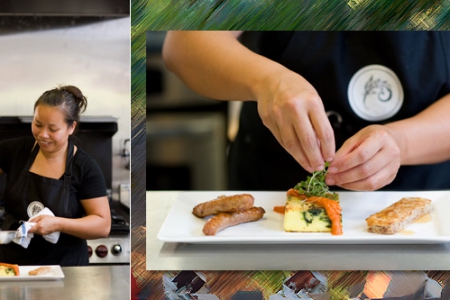 As Executive Chef at the Olea Hotel, Khambay Porterkhamsy created a unique gourmet two-course Summer breakfast menu for guests of the inn. Her daily offerings showcase the local and seasonal bounty of Sonoma, providing guests with a fresh healthy start to the day.
The Olea Hotel's complimentary breakfast includes a two-course plated breakfast of the day, along with our delightful breakfast buffet. All of organic ingredients are sourced from local Sonoma County vendors, allowing the hotel to highlight the very best flavors of the region.

Here is a brief sampling of the Summer breakfast items. Menu items will vary daily:

Continental Breakfast (Pre-first course and available throughout breakfast) :
Fresh Baked Pastry of the Day
House-made Honey Granola
Assorted Clover Yogurt

First Course:
Olea olive oil rosemary muffin or biscuit
House-made cherry lime preserves and seasonal fruit
Fruit smoothie shooter and seasonal fruit

Second Course Entree:
Poached farm egg on cheesy grits fritter and wilted mustard greens, with creole butter emulsion and Hobbs bacon and
Whole wheat strawberry pancakes with lemon mascarpone and basil seed syrup

Cachapa with barbacoa short ribs, avocado tomato salsa, chiles, queso fresco and a sunny-side up fried egg and
Key lime pancakes with graham streusel and cream cheese syrup

Scrambled eggs with summer squash potato gruyere gratin, roasted red pepper arrabbiata, and an Italian sausage patty and
Sweet garam masala French toast, peach compote, toasted macadamia, and lychee panna cotta

Chilled summer fruit soup with whipped crème fraiche, lemon verbena oil, and lime-scented grapes and
Soft scrambled eggs with crab, roasted crab and toybox tomato salad, lemon basil dressing, crumbled bacon, and grilled sourdough bread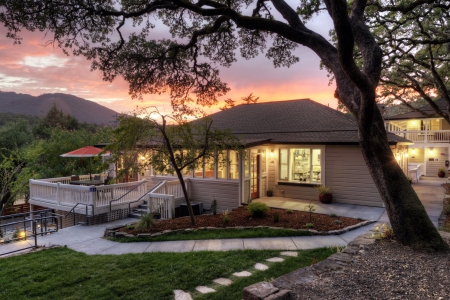 Nestled into a hillside and surrounded by oak and olive trees in the heart of Sonoma wine country, Olea Hotel is a small boutique hotel with unique amenities, modern guest rooms, and an exceptional breakfast experience.