Carrot Pate Recipe
From Stanford Inn by the Sea in Mendocino, California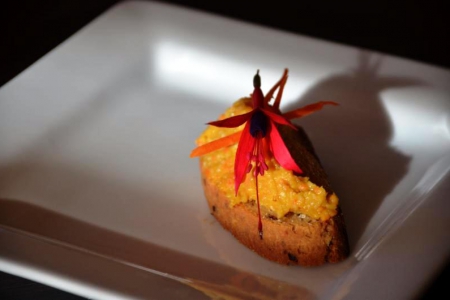 Try this recipe for whole food that's easy to spread. Watch the Stanford Inn's Jeff and Sid prepare this spread on Good Day Sacramento!
Ingredients:
1 ½ cups cashew pieces
1 cup carrot, peeled & rough chop
2 tablespoons tahini
2 tablespoons white miso
1 tablespoon soy sauce
salt & pepper to taste
1 to 2 tablespoons water, more as needed

Directions:
Place all ingredients in a food processor.
Begin processing, adding water as needed to allow ingredients to be thoroughly mixed.
With a spatula, carefully scrape the sides of the blender and continue to blend until a smooth paste is formed.
Refrigerate.
Filed in: Appetizers & Snacks, Salads & Dressings, Side, Vegan, Vegetables, Vegetarian