Famous Vegan Scones
From Stanford Inn by the Sea in Mendocino, California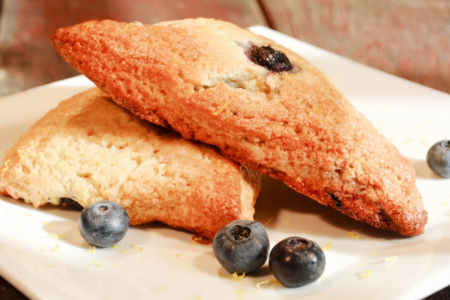 As any guest who has had the pleasure of waking up at The Stanford Inn will tell you, these vegan scones are a special treat. Baked in-house by the team of the plant-based Ravens Restaurant, the recipe has evolved slightly over time, but always brings the five-star reviews.
Ingredients:
3 tablespoons egg replacer
9 tablespoons water
2 1/2 cups organic all-purpose flour
1/2 cup sucanat (sugar)
4 teaspoons baking powder
1/2 teaspoon salt
3/4 cup Earth Balance (not whipped version) chilled and cut into small cubes
1/2 cup soy creamer (plus more, if needed)
1/8 teaspoon vanilla extract
2 - 3 tablespoons soy milk, soy creamer, or hemp milk
1 cup berries or currants (fresh or frozen)

Directions:
Preheat oven to 350 degrees
In a food processor whip the water and Egg Replacer for 1 minute. Set aside.
In a large bowl combine flour, Sucanat, baking powder and salt. Cut in Earth Balance with a pastry cutter. When you're finished, your mixture should look like small peas.
Add Egg Replacer mixture, ½ cup soy creamer, and vanilla. With swift, quick strokes, fold the wet mixture into the dry mix until the dough just comes together. Do not over mix.
Place mixture on a lightly floured surface and press together without over-working the dough. Flatten with a rolling pin into a ½ inch thick rectangle.
Push the fruit of your choice into the dough. Fold the dough once and flatten again into 1" thick rectangle.
Splash soy creamer on top, brushing evenly, then sprinkle with sugar. Cut into triangles and bake until golden brown, approximately 30 to 40 minutes.
Filed in: Appetizers & Snacks, Breakfasts, Scones, Side, Vegan