Kale Salad
From Stanford Inn by the Sea in Mendocino, California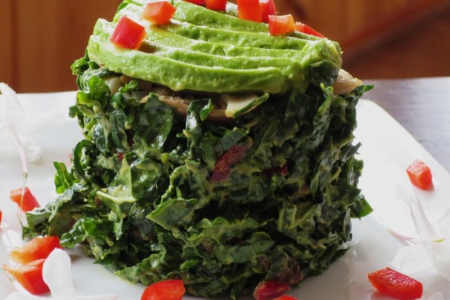 This salad is one of the Stanford Inn's most popular! Fresh, super healthy and delicious (3 things we love...). Don't fret if you don't have cylinder rings, this salad is fantastic simply in a bowl...enjoy!
Kale
1 bunch kale, chiffonade (Romaine lettuce can substitute)
1 teaspoon salt
Raisins
Garnish
1 red bell pepper, diced
1 avocado, sliced thin
Dressing
2 ripe avocados
1 lime, juiced
1 tablespoon rice vinegar or white wine vinegar
1 tablespoon agave nectar
1/2 cup cilantro, tightly packed
1/8 cup verjus (Navarro's sour grape juice) or white grape juice
Salt and pepper to taste
Combine chiffonade kale and sprinkle with salt in large bowl. Massage salt into kale leaves until kale is well coated. This process will help break down the cell wall of the kale making it tender.
Using vita-mix or high speed blender, combine all dressing ingredients and mix until completely smooth.
Combine raisins and 2 tablespoons of the dressing with kale and set aside.
Cauliflower Ceviche
1/2 head of cauliflower, steamed or boiled until soft (about 5 minutes), cooled and cut into small chunks
1 tomato, small dice
1/4 red onion, small dice
1/4 bunch cilantro, chopped
1/4 jalapeño, de-seeded, small dice
1 limes, juiced
1 teaspoons salt or to taste
1/2 teaspoon black pepper (optional)
Mix all and chill. Add more salt and jalapeño if needed.
Plating
In a cylinder mold, about 3" of the dressed kale, pressing firmly down. Follow with a thin layer of the ceviche. Finish with a layer of thinly sliced avocados fanned. Garnish with the diced red bell peppers.
Filed in: Appetizers & Snacks, Gluten Free, Salads & Dressings, Vegan, Vegetables, Vegetarian