Watermelon Gazpacho
From Stanford Inn by the Sea in Mendocino, California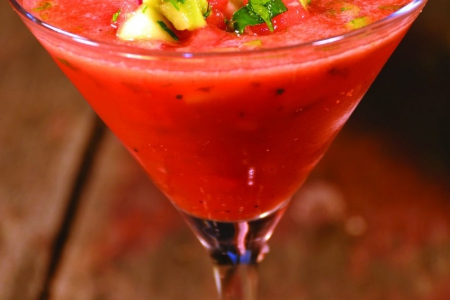 Cold, refreshing, slightly spicy, and sweet—this is a great soup for awakening the palate on a late summer afternoon before a dinner of grilled vegetables and barbecued portobellos, followed by strawberry shortcake.
Ingredients:
1 small seedless watermelon, diced (about 7 cups), 1 cup reserved for relish (see below)
1 cup skinned, seeded, and diced tomato
1 cup peeled and seeded cucumber
1/2 cup minced cilantro
1 red bell pepper, seeded and roughly diced
1 red onion, diced (roughly 1 cup)
1 small jalapeño, stemmed, seeded, and chopped
2 cloves garlic
2 teaspoons salt
1/4 teaspoon freshly ground black pepper
1/4 cup freshly squeezed orange juice
Juice of 1 lemon
Juice of 1/2 lime
For the watermelon avocado relish and assembly
1 cup reserved watermelon, diced small
1/4 cup diced onion
1/4 cup minced cilantro
1/4 cup diced cucumber
1 ripe avocado, peeled, pitted, and diced small
1/2 teaspoon salt
1 tablespoon orange juice
Juice of 1/2 lime
Directions:
For the gazpacho
Using a high-speed blender, blend 6 cups of the watermelon until well pureed. Set aside in large container.
Add all remaining gazpacho ingredients to blender and puree. Add pureed vegetable mixture to watermelon puree and chill in refrigerator.
Season with additional salt and pepper to taste.
For the watermelon avocado relish and assembly
In small mixing bowl, combine all ingredients and mix well.
Serve 1/4 cup scoop atop each bowl of gazpacho.
Filed in: Appetizers & Snacks, Side, Soups, Vegan, Vegetables, Vegetarian