Bright Bread
From Heceta Lighthouse Bed & Breakfast in Yachats, Oregon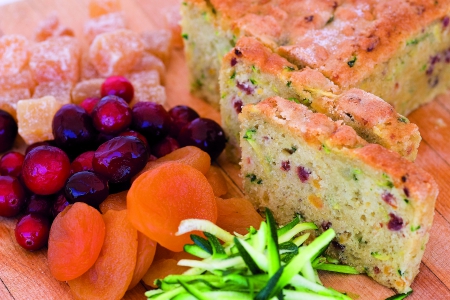 Michelle created this bread on a dreary Oregon Coast day — she wanted to brighten things up and serve something full of surprises. The ingredients and their colours not only look nice, but taste wonderful as well.
Preheat the oven to 350°F and oil three 8-by-4-inch bread pans with
baking spray.
Sift the flour, baking powder, baking soda, and salt together. Set aside.
Chop the cranberries, apricots, and candied ginger into small bits (pea size or smaller) and set aside.
In a large mixing bowl beat the eggs until foamy. Add ¾ cup of the sugar and the brown sugar, beating thoroughly. Add the oil in a slow stream and mix well. Add the lemon juice and zest. Add half the flour mixture. Stop to scrape down the sides and the bottom. Add the remaining flour and mix just to combine. Gently fold in the zucchini and cranberry mix- ture with a wooden spoon.
Divide the batter among the pans and sprinkle with the remaining
2 tablespoons of sugar. Place the pans on a baking sheet and bake for
55 minutes or until a toothpick inserted in the center of 2 breads comes out clean. Let rest for 20 minutes; turn out and let rest on a wire rack until completely cool. See page 47 for storing the breads.
Note: One lemon will yield about 2 tablespoons of zest and 4 table- spoons of juice.
Makes 3 loaves.
4 cups all-purpose flour 1 tablespoon baking powder 1 teaspoon baking soda
1 teaspoon salt
½ cup dried cranberries
¾ cup dried apricots 3 small chunks candied ginger
4 large eggs 2 cups grated small unpeeled zucchini
¾ cup plus 2 tablespoons sugar, divided
¾ cup brown sugar
¾ cup vegetable oil 4 tablespoons lemon juice
2 teaspoons lemon zest
From The Lighthouse Breakfast Cookbook by Michelle Bursey and Carol Korgan
Photograph by Tim Mantoani
Filed in: Appetizers & Snacks, Breads, Breakfasts, Christmas, Desserts, Side, Vegetarian